Reports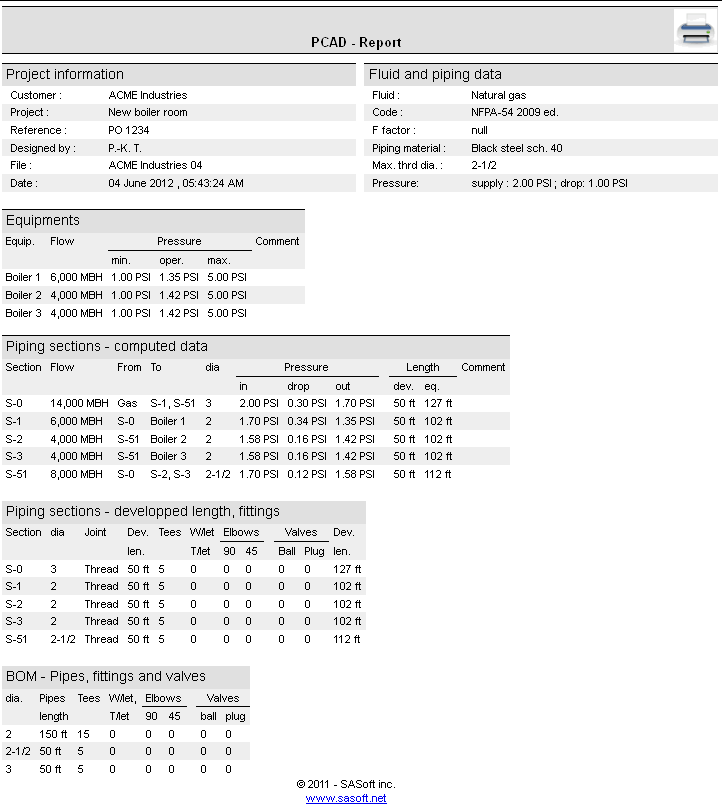 Fig. 1 - Report. Click to enlarge.
PCAD generates reports to allow you to crosscheck your design and manage your quality control.
Project header
Each report begins with the project header, which contains general information about the project and about the piping design criteria.
The information in the header comes from the information entered in the Project data dialog box, displayed from the Edit menu, and from the GAS supply data, entered in the Supply pressure and pressure drop dialog box.
Complete report
The complete reports includes all the available information for the project:
Equipments report
Sections report
Bill of material
See below for a detailed description of each report.
Equipments report
The equipments report lists the following information, for each equipment:
Tag
Flow
Minimum allowable inlet pressure
Inlet pressure
Maximum allowable inlet pressure
The inlet pressure is the pressure computed by PCAD. This is the pressure displayed on the drawing. All the other informations have been entered by the user.
Sections report
The sections report has 2 parts:
Computed data
Developped lenght, fittings
The computed data part of the reports lists, for each section, all the informations calculated by PCAD:
Section no
Gas flow
Where the gas comes from as it enters the section, and where it goes at outlet
Diameter
Pressure at the section inlet
Pressure drop in the section
Pressure at the section outlet
Developped lenght
Equivalent length
The developped lenght and fittings part of the report lists, for each section:
Gas flow
Diameter
Type of joints - thread or weld
Developped lenght
Number of fitting and valves
Equivalent length
Bill of material
The bill of material displays a detailed take-off of the piping, fittings and valves, sorted by diameter.
Printing
To print the report, click the Printer button, in the upper right corner
Back to top